Where there are people, there must be toilet facilities AND sufficient water for good hygienic practices. These are basic human needs.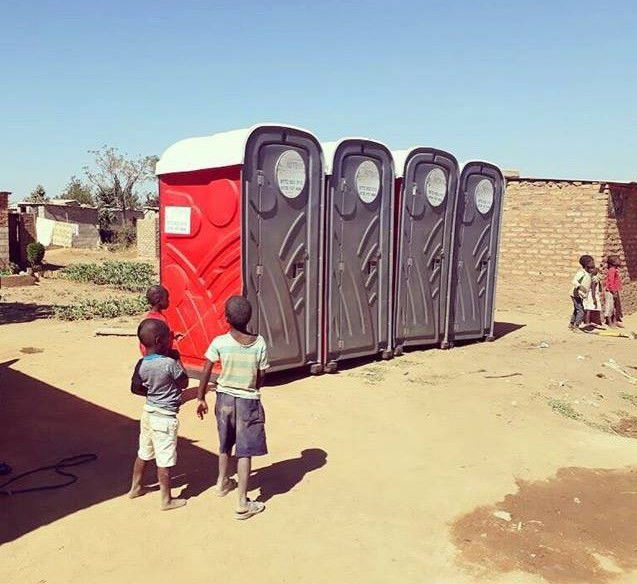 Hitbay mobile toilets stationed at a poor community in Epworth, Harare
While we are a for-profit entity that caters for both high-end and low-end clients, we are also very passionate about and committed to making a difference in the community we operate in. When the business was started, we had identified an opportunity that arose from a shortage of adequate toilet facilities at events in Zimbabwe. However, as we explored this opportunity further, we realized that there was a glaring shortage of adequate toilet infrastructure in the community in general. This is not just a local problem, but a global concern that has compromised the health and dignity of millions, especially the girl child in the poorest parts of the world.
We take comfort that organizations such as the World Health Organization (WHO) and many other NGOs have made commitments to addressing this enormous challenge. As Hitbay, we feel we can also make our small contribution to this cause and we have partnered with the public sector as well as international suppliers to provide toilet facilities, hand washing basins, hygiene products such as chemicals and hand sanitizer; where they are desperately required. So far we have managed to station and service mobile toilet units at several poor communities that are especially experiencing water supply problems. We hope that this will help prevent outbreaks of waterborne diseases such as cholera and typhoid as well as restore dignity to community members especially women and children.
We also recognise the important role we can play in raising awareness about safe hygienic and environmental practices. Hitbay has conducted awareness campaigns at schools, popular social places such as bars, fresh produce markets; and on globally recognised days such as World Toilet Day, World Hand Hygiene Day, and National Tree Planting Day.
Hitbay aims for social inclusion. This starts with recognising that there are vulnerable members in our society who require deliberate consideration in providing sanitation solutions. Examples of such individuals include those with disabilities, women and children. Hitbay has sought to address this challenge by ensuring that there is sufficient gender diversification in its people; and by having products that offer sufficient hygienic amenities, safety and security, and cater to the needs of disabled individuals. We also include these initiatives in our awareness campaigns. That said there is so much more that can be done to promote social inclusion in our society, and we are open and committed to continually making a positive impact in this area.